Are you looking for what coming in February Netflix 2020 then This is Netflix Original Coming in February 2020. Netflix has revolutionized the way we watch TV. No longer do we have to wait week by week for another episode to air or wait all year for another series. Thanks to Netflix, we can now watch pretty much whatever we want, whenever we want. But what is coming up this February? Which of the big series are gracing our screens for another dose?
We have listed the most up to date Netflix highlights that are being released this February so that you can plan your month and set aside some serious Netflix time! Whether you are into dark comedies or serious documentaries, Netflix has everything for you this month. From Better Call Saul to brand new releases like Queen Sono, you'll find something for everyone this month.
Netflix Original Coming in February 2020
Feb 3rd
Team Kaylie: Part 3
https://bestmoviecast.com/wp-content/uploads/2020/01/Team-Kaylie-Season-3.jpg
Team Kaylie: Part 3 – Release Date: February 3rdThis is definitely one for the younger viewers. This kid's TV show follows fictionalized reality TV star Kaylie Konrad as she tries to become one of the world's greatest influencers. It includes her pits, her peaks and all the bits in-between as she tries to grow her following and be her best Instagram meself. Bryna Salaz (a former contestant of The Voice) stars as Kaylie while other members of the cast include Kai Kalhoun, Symetra Jackson and Elie Samouhi.
Feb 4th
Tom Papa: You're Doing Great
Tom Papa: You're Doing Great – Release Date: February 4thTom Papa the famous American stand-up comedian has his new stand-up show coming out and Netflixviewers get to see it this February! Splitting his time between radio shows, podcasts and writing for/acting in TV shows, Tom Papagoes back to his roots, stand up. As ever he makes the room roar with laughter and cringes with embarrassment as he regales life stories. Tom Papa has four additional stand-up specials you can find on Netflix.
These are Human Mule, Freaked Out, Live in New York City and Calm, Cool and Collected. Along with the backlog of films, TV shows and radio productions that have made Tom Papafamous, he still knows how to command the room and give us all a good belly laugh. If you are into comedy and you enjoy the stand-up specials that Netflix provides then we highly recommend catching this one.
Feb 5th
The Pharmacist
The Pharmacist – Release Date: February 5th If you liked Making A Murderer, then you are going to love The Pharmacist. This documentary follows a small-town pharmacist who lost his son to a drug-related shooting in 1999. This story is based on how this father fights for justice for his son and how he intends to hold a big pharmaceutical company to account for. Watch as this poor Dad struggles with his grief while staying strong enough to fight on his son's behalf. Harrowing but a must-watch the documentary.
Feb 7th
Horse Girl
Horse Girl – Release Date: February 7th A brand new movie to Netflix, Horse Girl is about a simple girl whose main focus is on her seemingly normal life involving crafts, horses, oh and supernatural crime shows, crimes which begin to seep into her dreams. Starring Alison Brie, Debby Ryan, and John Reynolds. One to watch if you loved Gone Girl!
Locke & Key
Locke & Key – Release Date: February 7thLocke and Key is a new Series to Netflix which revolves around 3 sibling's lives. After the murderer of their father, they have to return to the home they grew up in and live together. However, as they get reacquainted with their old lives they find a set of magic keys. These keys give them supernatural powers and abilities.
But this is only the beginning. A demon boy wants the keys for his own evil gain and as such, the siblings must protect them at all costs. Starring Jackson Robert Scott, Connor Jessup, and Emilia Jones, this 10 part series was originally developed as a TV series in 2010 and is based on a collection of comic books written by Joe Hill. This series has been years in the making and is set to be a must-watch thriller this season.
Feb 9th
Better Call Saul
Better Call Saul – Release Date: February 9thIf you were as obsessed with Breaking Bad as we were, you are going to love Better CallSaul!In its 5th season, Better Call Saul is a spin-off from Breaking Bad which focuses on the life of their sleazy lawyer Saul. Set before the years of Breaking Bad, we see how the lawyer's life plays out and turns him into who he is today.
In the last season, we saw Saul (or rather Jimmy) Jimmy's difficult relationship with his brother come to an end and his demise into organized crime became deeper. Now we revisit the series with another glimpse into Jimmy's world as he grows closer into morphing into Saul. With Bob Odenkirk starring and Vince Gilligan and Peter Gould's excellent writing, this season is looking to be the best yet.
Feb 11th
Good Time
Good Time – Release Date: February 11th This film has taken its time getting to our screens but is still fantastic nevertheless. Originally aired in 2017, this film stars Robert Pattinson and Jennifer Jason Leigh as they try to rob a bank to secure enough money to help pay for bail for a developmentally disabled brother. Harrowing, tense and gripping, this is a sit on the edge of your seat kinda film!
Feb 12th
To All the Boys: P.S. I Still Love You
Release Date: February 12thThe sequel to To All The Boys I've Loved Before is finally here! With the first film making such waves (especially with the younger demographic and Millenials), Netflix Original Coming in February 2020. it's no surprise that they were able to bring us the sequel so quickly.
Airing in only 2018, the To All the Boys I've Loved Before set up the story nicely for LaraJean and Peter, who this year are finally a couple! We get to see all their firsts (including first date and first kiss) and with this comes a whole new set of emotions. But then John arrives. John is another recipient of one of Lara Jeans's letters and now he is vying for her affections too. Can Lara Jean be in love with two people at once? What is a girl to do? Starring Lana Condor and Noah Centineo.
This coming of age movie is heartwarming and show of emotions and feelings which will make you laugh, cry, or simply relieved that you have grown up! This film is another in the To All The Boys, meaning that there will be more on the way, so watch out in 2021 to see if they can create another great installment.
Feb 13th
Dragon Quest: Your Story
Dragon Quest: Your Story – Release Date: February 13thThis computer-animated film is based on the game Dragon Quest. The plot follows Luca who has to try and rescue his mother from the evil Ladja, but the only way he can do this is by winning the Zenethian sword. Definitely one for those Comic-con fans!
Narcos: Mexico Season 2
Narcos: Mexico Season 2 – Release Date: February 13thNarcos: Mexico is a spin-off from the original Netflix series of Narcos which focused on the drug lord Pablo Escobar and his rise to one of the most influential billionaire drug lords ever known. In contrast to the original Narcos series, this season doesn't have factual characters to base their stories on but instead relies upon factual accounts that they have gone on to fictionalize. Set in 1985 and starring Michael Pena and Diego Luna.
This season is action-packed and full of plot twists. February Netflix 2020. With it being over a year since Narcos: Mexico was first aired, fans have been patiently waiting for this hot release. Luckily the series has lots more to cover in terms of the growing momentum of the Mexican cartels and as such is likely to be commissioned for another season or two.
Feb 14th
Cable Girls Season 5
Cable Girls Season 5 – Release Date: February 14thCable Girls is on its fifth season thanks to its popularity and following. Set in 1928, the original series showed a group of women who became telephone operators at a major telecommunications company and follows their lives both at home and at work. In a time when women's rights were next to none and holding down a job wasn't easy, this series shows the trials and tribulations that these women faced as they juggled everything to get by.
Starring Maggie Civantos, Nadia de Santiago, Ana Maria Polvorosa, Ana Fernandez and BiancaSuarez, this 8 part season is set to be the best yet. Including murder, corruption, and infidelity, these girls have a lot on their plate and we get to sit back and watch how they get out of it. A thrilling drama series that will make you grateful to live in today's age.
A Shaun the Sheep Movie: Farmageddon
A Shaun the Sheep Movie: Farmageddon – Release Date: February 14thThe film that every kid (but not necessarily every parent) has been waiting for, Shaun the Sheep Farmageddon is yet another amazing thing to come out of the UK. Made by Aardman studios (the same studios that brought us Wallace and Gromit), Shaun finds a new friend in the alien Lula. Netflix Original Coming in February 2020. The story follows them as they try to help Lula get used to earth before returning home. Your kids are going to love it!
Feb 17th
The Expanding Universe of Ashley Garcia
The Expanding Universe of Ashley Garcia – Release Date: February 17thOriginally created by Nickelodeon, this kids' series focuses on fictional Ashley Garcia, a 15-year-old girl who happens to have a robotics degree and is about to work for NASA. The series follows her as she juggles her genius, her career and her day to day teenage life. Starring Paulina Chavez as Ashley, young teens and tweens will love this!
Feb 21st
Gentefied
Gentefied – Release Date: February 21st This TV series is set to be the next must-watch series. Following 3 Mexican American cousins, as they try to achieve the American dream, things start to go wrong and affect (amongst other things) their family shop, their neighborhood, and their dear immigrant grandfather. Starring Karrie Martin, Joseph Julian Soria, Carlos Santos, and Joaquin Cosio, this funny yet real series is one to binge!
Glitch Techs
Glitch Techs – Release Date: February 21st This animated series follows two kids that have been recruited to fight against video game monsters who have escaped their game and are running wild in the real world. Much anticipated, this nickelodeon animation has been a long time in the making.
Feb 26th
I Am Not OK with This
I Am Not OK with This – Release Date: February 26thThis coming of age series is going to be the next Stranger Things! Starring Sophia Lillis, Wyatt Oleff, Sofia Bryant and Kathleen Rose Perkins and follows the story of a typical teenage girl who is trying to get through high school without any drama, until she realizes, she has superpowers. February Netflix 2020. This origin style story follows her and her friends through their teen years being the outcasts. Definitely one to watch!
Feb 27th
Angry Birds 2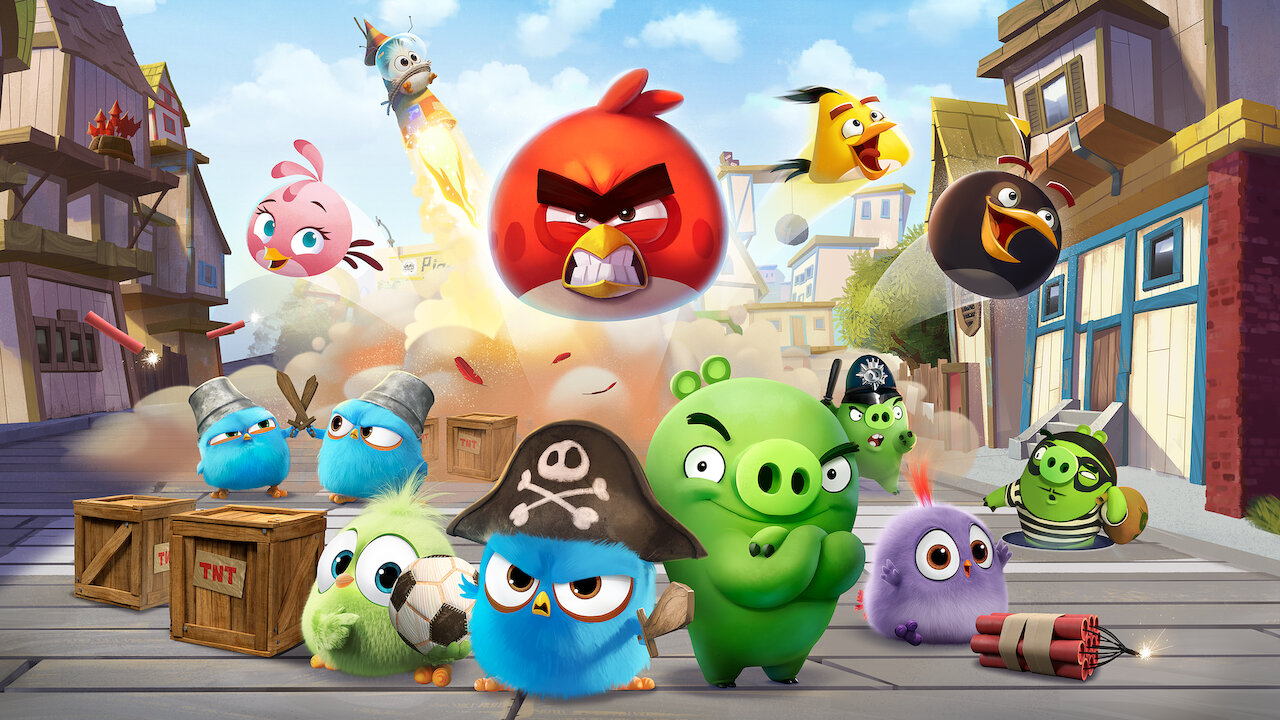 Angry Birds 2 – Release Date: February 27th The sequel to the first and original AngryBirds movie, this film is based on the ever-popular mobile game and app by the same name. This tale doesn't disappoint with the appearance of the birds once again having to fight off the evil pigs and avert disaster. Starring the voices of Jason Sudeikis, Josh Gad, Leslie Jones, Bill Hader, and Rachel Bloom, this movie Is just as good as the original, dare we say better?
Feb 28th
Formula 1: Drive to Survive Season 2
Formula 1: Drive to Survive Season 2 – Release Date: February 28thA ten-part documentary series that follows the teams and drivers involved in all the formula 1 races. You will see behind the scenes footage, interviews with the teams and all the drama that unfolds that you don't always hear about on race day. Netflix Original Coming in February 2020. From car drama to fallouts in the pits, this is a great documentary that really shows you what Formula 1 racing is all about. If you are a Formula One nut, then you are going to love this! Season one is available to catch up on if you missed it last year too.
All The Bright Places
All The Bright Places – Release Date: February 28thThis film is based on the internationally acclaimed bestselling novel by the very talented Jennifer Niven. All The Bright Places guide us through the start of Violet and Theodore who, after meeting, change each other's lives forever. Both with previous emotional baggage and history.
They come together despite their emotional scars and learn that even the smallest of things can be bright and positive. This film covers many topics such as mental illness, relationships, and traumatic childhoods. With Elle Fanning and Justice Smith doing a sterling job of acting the lead roles, this film is not one to be missed. If you like this then you will love the book which is still available in all good bookshops or online.
Queen Sono
Queen Sono – Release Date: February 28th A new series for Netlfix, Queen Sono is based on a story of a secret South African agent who plans to take down criminal operations and fight crime. However, she isn't as successful in her private life as she is in her career and we follow the two closely. Starring Pearl Thusi and Vuyo Dabula.
This thriller drama is a new take on gritty crime series' and will have you wanting to binge-watch the whole thing. This series is the first South African series to be commissioned by Netflix; however with the shadow being put ahead in the screening schedule, Queen Solo had to take a back step until Feb2020. Now that it's here, it is likely to be a really popular series and the talk of the office. If you like gripping thrillers then you will love Queen Sono.
Jeopardy! All Five Series
Jeopardy!All Five Series – Release Date: February 28th Did you love watching Jeopardy back in the day?Do you always find yourself getting distracted by reruns and end up shouting at the TV? Well, we have great news for you, all 5 series of Jeopardy! Are available to stream this February.
Get in from the cold, have some fun and binge watch all 5 series of this epic tv show this February! So whatever plans you have this February, cancel them! This is Netflix Original Coming in February 2020 | February Netflix 2020. These Netflix releases are enough to keep you happy all month so get comfy and enjoy them. Don't forget new releases are published every week so if you can't find something you like on our list, there will be something for you coming up soon!